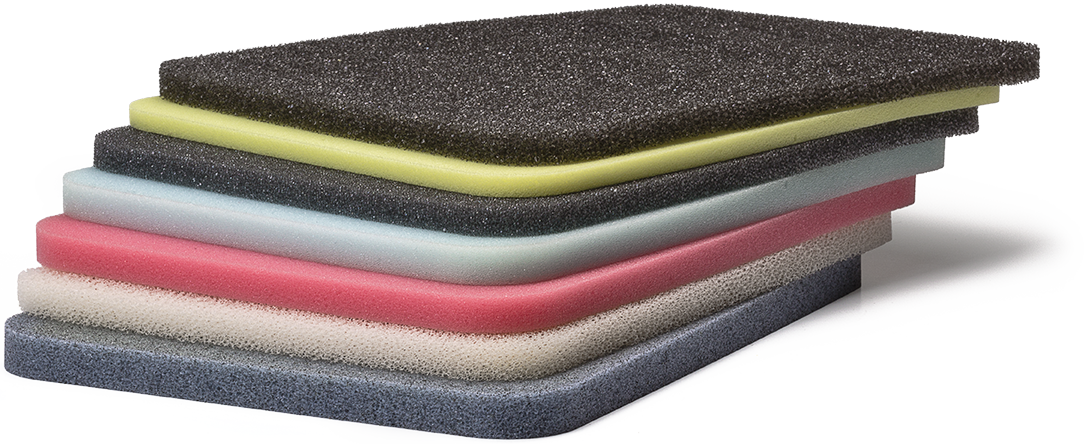 Open Cell Foams
Open Cell Foams are used as cushioning/gasketing for a variety of commercial and consumer products, including bedding, furniture, flooring, packaging, filtration, construction, appliances, medical, marine, military and automotive interiors.
There are two types of polyurethanes (polyether & polyester) that can be created in almost any variety of shapes, densities and color. The physical properties of polyester and polyether have contrasting characteristics that determine their suitability for different applications. Flexible open cell foams are made of irregularly shaped cells that are linked together. The cell walls are broken which gives the foam a softer feel as well as acoustic values. All of our open cell foams can be supplied with and without pressure sensitive adhesive on one or both sides.
Polyether vs. Polyester
Polyether: Lower Temperature Flexibility, Higher Resistance to Fungi, Better Hydrolytic Stability, Better Cushioning Capabilities, Superior Resistance to Moisture.
Polyester: Greater Abrasion Resistance, Higher Tensile Strength, Better Tear Resistance, Withstand Higher Temperatures Longer, Improved Chemical Resistance.
Discoloration can occur to both foam types of PU based on the direct intensity of UV light. Polyurethanes perform quite well in fungal growth studies which make them suitable for hygiene and medical devices. Antimicrobial and UV additives are commonly used and inserted into the foam during the initial processing stage to enhance its overall properties. Generally, polyurethane foams are known for being resistant to a wide range of solvents.
Air Filters
Automotive Interiors
Automotive Packaging
BSR (Buzz, Squeak, Rattle)
Camera Cases
Carpet Underlayment

Display Packaging
Electronic Cases

Electronic Packaging

Filtration
Furniture Cushions
Gun Cases
Mattresses / Pillows
Medical Cases

Medical Cushions
Medical Packaging
Military Packaging
Promotional Items
Seals & Gaskets
Sound Absorbers (NVH)
Tooling Cases