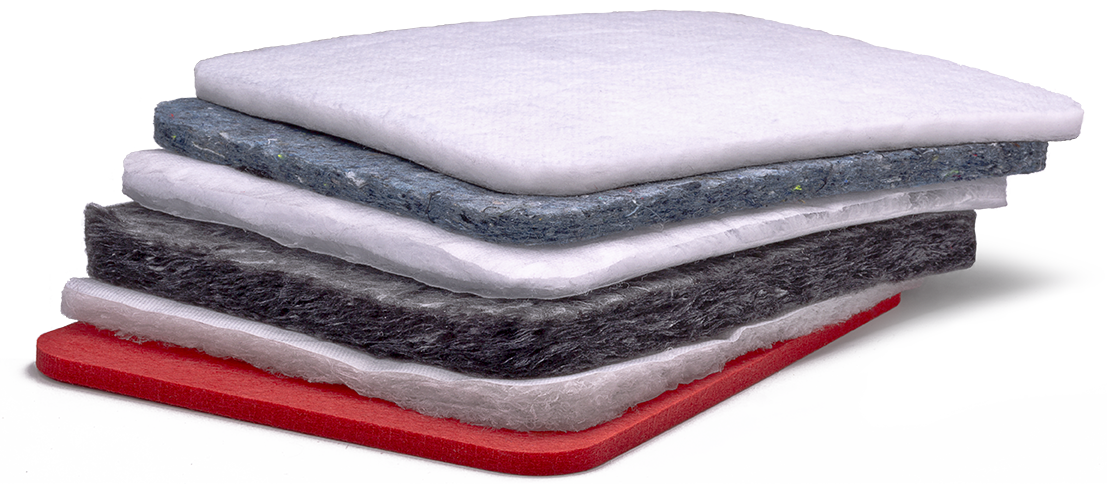 Acoustic/Insulator Fiber
Acoustic/Insulator Fiber play an important role in our lives every day.

People spend 90% of their time indoors including transportation and that has caused NVH (Noise, Vibration & Harshness) specialists to dial down on the acoustic needs of consumers throughout all industries. Our large variety of sound deadening products are light weight and have acoustical results available to meet many standards. The fiber products mentioned below can be supplied with and without pressure sensitive adhesive on one side.
Our polyester (100%) nonwovens come in array of gram weights and thicknesses so that our offering to the OEM's is the highest standard possible. Polyester wraps are also used in the bedding and appliance market. The two-color options for this polyester are white and black (with & without scrim).
We also fabricate the polypropylene / polyester blend (65% PP fibers– 35% PET fibers) that fits a wide range of applications where varying weights and thicknesses are desired for automotive trim panels (outer scrim on both sides are 100% polypropylene nonwoven fabric). This material can be heat sealed around the outer edges of the part which makes it aesthetically pleasing. This material is commonly offered in white and black.
Insulators manufactured out of Polypropylene (100%) consist of microfibers with a spun-bond scrim on both sides for additional strength and protection. Sonic welds are incorporated evenly throughout the material in order to keep material consistent and uniform. This product is offered in white and black combinations.
Reclaimed Fiber (Shoddy) has acoustic properties and thermal solutions for many different industries. Shoddy fiber blends are created from textile waste and have fire retardant added for specific performance characteristics. This product is multi-color and can be supplied with foil on one side so that thermal performance standards can be targeted.
Our Specialty Fiber (Designer Board – 1500gsm)) is extremely eye catching and is made from regular and low melt polyester fibers, which provides its firmness. Designer Board is so versatile, it can be fabricated to custom shapes using different processes depending on your quantity and size. This durable and resilient felt material can be used for decorative pieces, arts, crafts and acoustical applications when look and sound control are required. This material is offered in 35 vibrant colors allowing for more creativity with design engineers as well as architects. PET Felt of this quality opens many doors for unique patterns and can be used in many scenarios such as ceiling designs and wall finishes. Wall finishes can be your personal design within any space and the resiliency of this felt makes it ideal for sticking pins and tacks.